UBUD WEDDING VENUES IN BALI
Bali is one of the most beautiful locations in the world, with its pristine white beaches under the tropical heat, there is not much more you could ever ask for the perfect wedding location. Ubud, the cultural heart of Bali, is home to natural picturesque hills and rice terraces, making it one of the best spots for the perfect sunset wedding overlooking the lush greenery. Whether you are looking for the perfect Bali resort wedding packages, Hitchbird's bespoke selection of Ubud wedding packages venues will pique your interest.
Ubud Wedding Packages For Large Weddings
If you're looking for a selection for a sizeable wedding ceremony which can accommodate a minimum of 100 people, these wedding locations are exactly what you're looking for, large, yet perfect for that intimate wedding setting.
Alila Ubud is an award-winning hotel perfect for a stylish wedding amidst the Ayung river valley, famous for its infinity pool. This orchid laden hotel, is perfect for that nature themed wedding with beautiful bouquets amongst the tropical setting. If you're looking for a designer wedding, then this is the wedding venue for you.
Capacity: Ceremony 200 guests, Dinner 100 guests
Photo: Alila Ubud
Padma Resort in Ubud consists of 11 hectares within the Payangan enchanting bamboo forest. This river valley view overlooks the forest and is perfect for Bali wedding packages view overlooking the terraces.
Capacity: Ceremony 126 guests
Photo: Padma Resort Ubud
The Chedi Club in Tabah Gajah Ubud is set within a tropical garden, with the mighty Mount Agung. This luxury retreat is an exclusive private hotel, set amongst the beautiful highlands of Bal, and is located outside the former estate of Hendra Hadiprana, one of Indonesia's most respected art collectors. Consisting of 20 luxury villas, this hillside resort is perfect for a large intimate wedding.
Capacity: Ceremony 200 guests, Dinner 200 guests
Photo: The Chedi Club Tanah Gajah Ubud, Bali
This beautiful resort hotel by the Ritz-Carlton caters to 100 guests, an is the perfect blend of luxury and nature, featuring the Ayung River, overlooking the rice terrace fields and forest. As a luxury resort by the Ritz-Carton, this hotel will cater to your bespoke needs with its amazing service.
Capacity: Ceremony 100 guests, Dinner 100 guests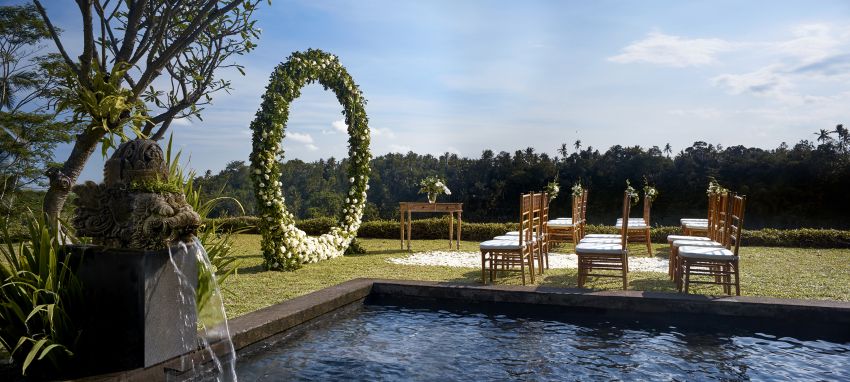 Photo: Mandapa, a Ritz-Carlton Reserve
One of Ubud most popular destination with natural landscape to capture the essence of Balinese village with rice paddies, and is located 5 minuts from the Ubud city centre. This scenic location can cater for very large wedding, and is beautifully flanked amongst the greenery that Bali has to offer.
Capacity: Ceremony 200 guests, Dinner 200 guests
Photo: VISESA UBUD RESORT
Alaya Resort in Ubud is perfect for than Balinese inspired wedding pavilion in the form of a small joglo is at the end of a long walkway. This wedding venue is built taking into account the local sensitivities and shares its environment with local communities. An utmost gorgeously intimate wedding venue.
Capacity: Ceremony 150 guests
Photo: Alaya Resort Ubud
Agung Raka Resort and Villa consists of 24 guest rooms which are designed to mimic Balinese rice barns, with thatched roofs, bamboo and wooden structures. This rustic themed resort will give you that unique wedding you're looking for, with a large ceremony capacity.
Capacity: Ceremony 100 guests, Dinner 150 guests
Photo: Agung Raka Resort & Villa
The windswept beach and the ancient stones form a compelling backdrop for couples looking for an inspiring seaside setting in which to exchange their wedding vows. The unique offering at the Royal Purnama would be their Stonehenge Wedding Garden, where the wedding ceremony is held amidst its monoliths overlooking the sea.
Capacity: Ceremony 150 guests, Dinner 150 guests
Photo: The Royal Purnama
There you go, Hitchbird's list of some of the best wedding packages and best wedding venues in Ubud, readily considered the cultural heart of Bali. You will definitely be able to create your perfect wedding amongst the lush rice terraces and low flowing hillside greenery. With Hitchbird, you will be able to find wedding dresses made by local designers, search for wedding photographers, make-up artist as well as any other needs you will have, making it convenient for you to do everything with a click of a button. Start planning for the wedding you deserve.