A Guide to Affordable Destination Weddings
While exciting, planning a wedding can prove to be an extremely tedious, time-consuming, and pricy endeavour. From the location, setup and décor, to the food, drinks, and entertainment, you might find it challenging to successfully plan your dream wedding without burning a hole in your pocket.
However, if you intend to have a destination wedding, there are plenty of affordable deals that will guarantee you receive a bang for your buck! Especially if you are on a tight budget, destination weddings are great, as you will only need one location that you'll pick from a range of affordable venues with all-inclusive wedding package deals. Not to mention, you will have a professional wedding planner close by, keeping your plans in check and assisting you in handling all your wedding arrangements.
Hence, it doesn't come as a surprise that more and more couples are opting for destination weddings to host their special day. If you are among them, here are a few leads and pointers to get you going.   
Where to find affordable wedding destinations
In most cases, prices of hotels and resorts are higher in big cities, so try to look for venues in smaller towns. Plus with an affordable location, you can splurge on other necessities like food and décor, making your wedding as stunning and memorable as one that has a bigger budget. 
Try all-inclusive wedding package deals
There are many locations on Hitchbird that will offer you all-inclusive wedding packages. These venues often have made their own deals with various services, relaying these savings to you. From catering the food and designing your personalized wedding cake, to setting up the event space, wedding planners on our platform guarantee to give you the best deals!
Search for the cheapest destination wedding deals by price
This seems obvious, but with so many options out there, you might not be able to successfully accomplish locating your ideal, budget destination without a little help. That is why we at Hitchbird have optimized our search engines to allow you to make your ultimate destination wedding search by price efficiently and conveniently.
Affordable destination wedding locations
Sudamala Suites & Villas - Bali, Flores, Lombok
The Sudamala features properties in Bali, Flores, and Lombok, three different islands in Indonesia.
A beach in Sanur village, where you can have an intimate beach wedding, situates the one in Bali. It is designed according to traditional Balinese art and values and is priced at MYR 7,264 for 20 pax.
Lombok is a laid-back island, so this venue is sure to offer couples preferring to take it easy a mellow, paradise-esque wedding trip on the soft sands of Senggigi.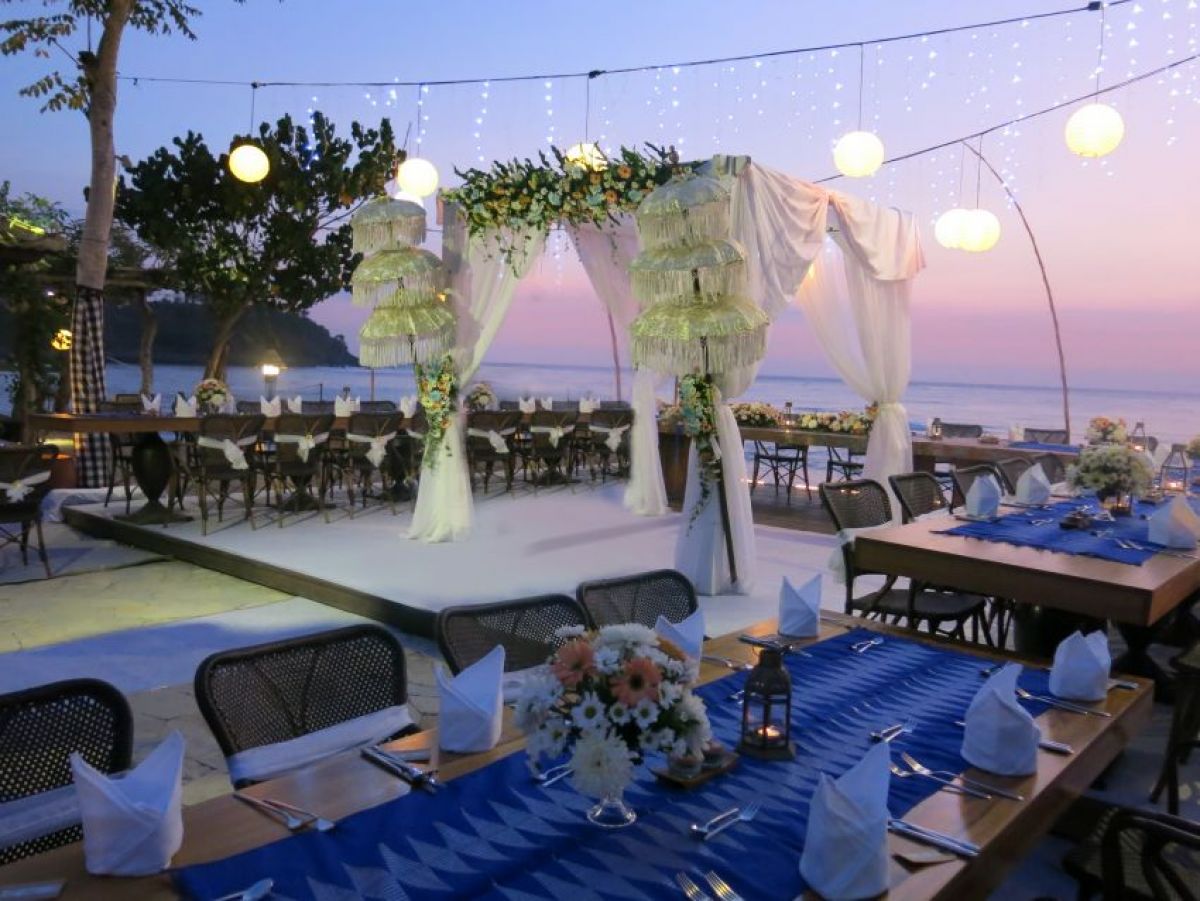 For MYR 11,798 for 30 pax, have a spectacular white wedding under a flower arched, bamboo altar at Cape Sienna, a sleek lifestyle hotel overlooking Kamala Bay.
The infamous Thai-Burma Railway inspired the design of this resort. Located in Kanchanaburi, the largest of the western provinces in Thailand, this resort provides an ancient feel with a modern twist for an exclusive Hitchbird offer of a mere MYR 9,438 for 40 pax.
Nestled by the famously enchanting Khuk Khak Beach, JW Marriott Khao Lak situates your wedding on a prime beachfront venue in Phang-Nga province, Thailand. A slightly pricier option, this location is valued at MYR 9,014 for 10 pax. This package comes with a Master of Ceremonies and a wedding photographer, who will take pictures of your ceremony for up to two hours.
---
The Bale, Bali
Ceremony from IDR 45,000,000 | Dinner from IDR 500,000 per guest | Beverage from IDR 200,000 per guest | Minimum 20 guest(s).
If you are on a budget, but still intend on an over-the-top extravaganza for your special day, The Bale is your ideal spot. Equipped with stylized interiors and an exclusive beach club at Geger Beach, this resort allows you to host your wedding for MYR 13,076 for 20 pax. The best part is this package includes a romantic candlelight dinner or a 120-minute couple spa treatment session!
This private beach location offers professional wedding services for MYR 10,472 for 2-15 pax, without additional cost. Rocky's wedding planners can even customize your ceremony according to Christian, non-secular, or Buddhist oriented weddings!