Best Pre-Wedding Photo Destinations in Asia - Part 1
If you are thinking to do a pre-wedding photo shoot, you should check out Hitchbird's recommended local photographers and their beautiful shots taken at these amazing destinations!
Are you considering a pre-wedding photo shoot? You could just call up a local photographer and head down to their studio, but then you'd end up with the same formulaic images that you've seen on the walls of all your friends. For something that reflects your unique personality and style, why not opt for an engagement shoot in one of our top five Asian destinations for pre-wedding photo shoots?
1. Macau
The blend of Portuguese and European architecture in Macau gives you plenty of options when it comes to photo locations. The picturesque Fisherman's Wharf is ideal for a casual yet romantic photo shoot whilst the fountains at Senado Square might suit the more classic, formal engagement shoot. Try Ben Wong Photography and take advantage of their familiarity with the area to get the best images possible.
Photo: Ben Wong Photography
2. Queenstown, New Zealand
With lakes, mountains, and ever-changing seasons, Queenstown appeals to those looking for a photo-shoot in the great outdoors. You can also choose from plenty of adventurous activities to enjoy some time out as a couple before the wedding craziness kicks in, and to get some unforgettable images. Williams Photography can help you find all the best photo locations.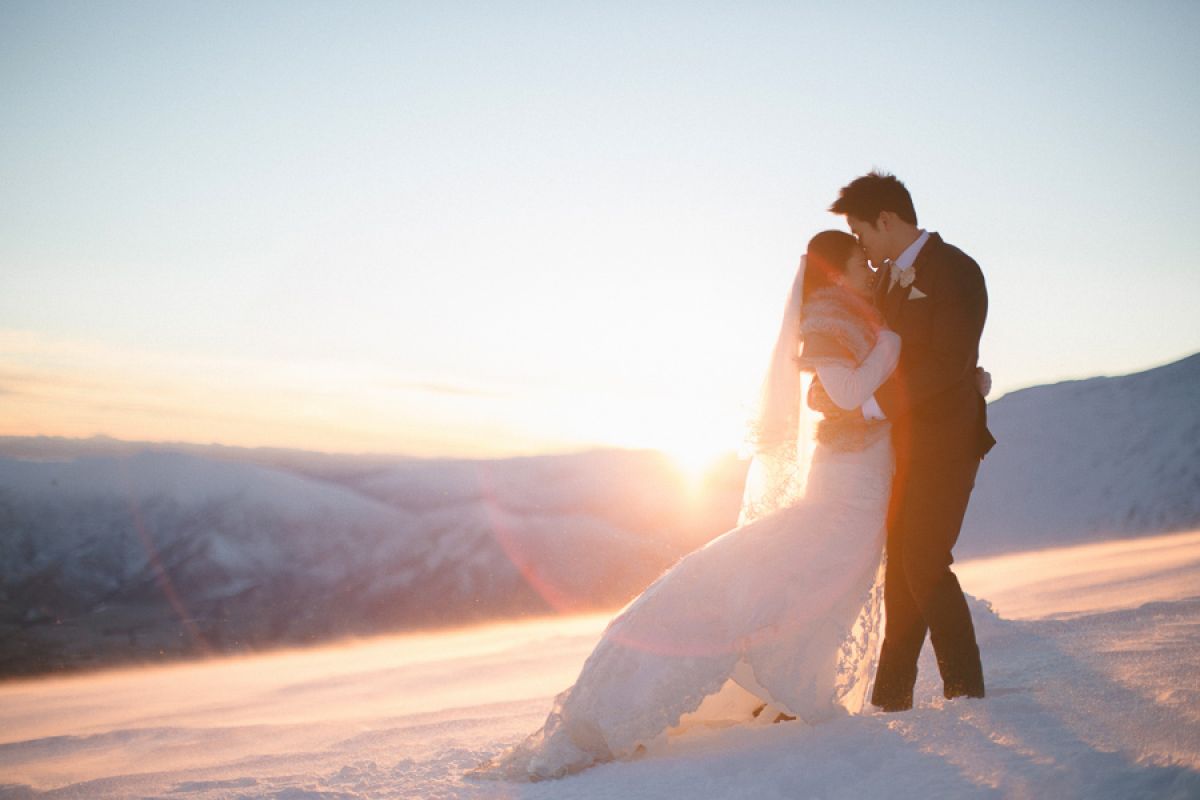 Photo: Williams Photography
3. Shanghai, China
If you choose Shanghai for your engagement photo shoot, you won't be disappointed. You'll find an abundance of beautiful colonial buildings in the Bund area, or maybe you'd prefer the Yùyuán Gardens? Whatever you decide, getting in touch with a local photographer will help you to get the best images. Try SPOTTED Photography.
Photo: SPOTTED Photography
4. Taipei, Taiwan
Taiwan's metropolitan centre, Taipei is a great location for your pre-wedding photo shoot, with sceneries ranging from cutting-edge modern to old-world traditional. From the mountain scenes at Yangmingshan National Park to the iconic backdrops of Taipei 101 or even the seaside town of Tamsui, TaipeiRoyalWed will help put you in the right direction for a romantic photo shoot that will keep you mesmerised like never before.
Photo: TaipeiRoyalWed
5. Bali, Indonesia
Ricky & Co. Photography is a great place to start if you're looking for a photo shoot in Bali. They'll help you pick the best of the temples, beaches, or mountains and create a beautiful reminder of this happy time.
Photo: Ricky & Co. Photography
Whatever you're looking for in a photo shoot, you've hopefully found something to pique your interest in this list. Hitchbird can help you organise all the details – whether you're looking for tips on the best restaurants, the most relaxing spa treatments, or the best activities for bringing out the dare-devil in you. We're a one-stop shop for all your Asian destination wedding needs.


Related article: Cool & Funky Wedding Venues in Asia