How to Save 50% (or More!) on your Destination Wedding
Why spend more when you can pay less for your wedding?
Now that the glow of your engagement has settled in, you may find yourself longing for the elusive destination wedding bliss. You picture your special day to be in an exotic location and at some luxurious resort. Then, reality sets in: the words 'cheap' and 'destination wedding' are as different as chalk and cheese. An average destination wedding for 20 guests, including the couple's travel costs and accommodation, can take a voracious chunk out of your life savings at more than USD30,000.
But don't break out in cold sweat yet - with smart planning and some extra help from our insiders' tips, it's actually feasible to plan a destination wedding on a budget that's half of that average. Let's start you on the right foot with these cost-saving tips for destination weddings:
Tip #1: Destination weddings don't always have to be on a beach 
The truth is that many international couples do seek out this vacation- like experience, to get away from the traditional wedding of sorts, and also entertain their family and friends in an entirely new and exciting part of the world. Naturally, an isolated island halfway around the world is often the top choice for a destination wedding.
But these venues also usually cost far more, if not simply because of the increased difficulty in logistics (getting floral arrangements to not wilt under the hot sun is tricky) and exclusivity (blocking off a private beach means the resort would lose other potential income, so they'll make you pay to make up for that).
Try a garden wedding at Four Seasons Chiang Mai, a clifftop wedding overlooking the valley at Jannata Resort & Spa, or even a romantic vineyard wedding.
Click to read: 11 AFFORDABLE DESTINATION WEDDING VENUES FROM US$100 FOR YOUR ULTIMATE DREAM WEDDING IN ASIA
Tip #2: Keep it small 
If you're trying to plan a destination wedding on a budget, including everyone on the guest list is a gamble. Should everyone you've invited decide to attend, that can inflate your spending. Every extra person costs you money for invitations, food, cake and more, so check your list twice, and make sure everyone on it is an absolute must-have.
Invite only those who you cannot imagine not sharing one of the most important moments of your life. Still having trouble downsizing? Try asking yourselves, "Would I take this person out for a several-hundred-dollar dinner?" If you hesitate to say yes, we'd wager that you should leave this person out of your guest list.
Click to read: TOP WEDDING VENUES LESS THAN $5,000
Tip #3: The right timing is key 
Timing matters when it comes to planning a destination wedding on a budget. There's no way around it - if you've got a popular destination in mind, you should try to book your venue one or two years in advance to get the best rates. This would also help you (and your guests) to save on flight fares.
Higher demand allows service providers to increase their prices, so avoiding Saturdays can save you up to 30% since it is the most popular day of the week for a wedding. This is especially true for catering and other miscellaneous services like photography.
During a destination's peak season, like Ubud Valley Boutique Resort in December, rates can increase by 25 to 50 percent. Most tourists avoid Bali between October to April as tropical storms could rain on your parade - but the island still enjoys sunny weather for most of the day. Smart couples can aim to time their weddings during shoulder or off-peak season instead to take advantage of this. If you're worried or unsure about the timing, the hotel's wedding planning team can give you their expert advice.
Click to read: 10% OFF WEDDING PACKAGES AT W RETREAT KOH SAMUI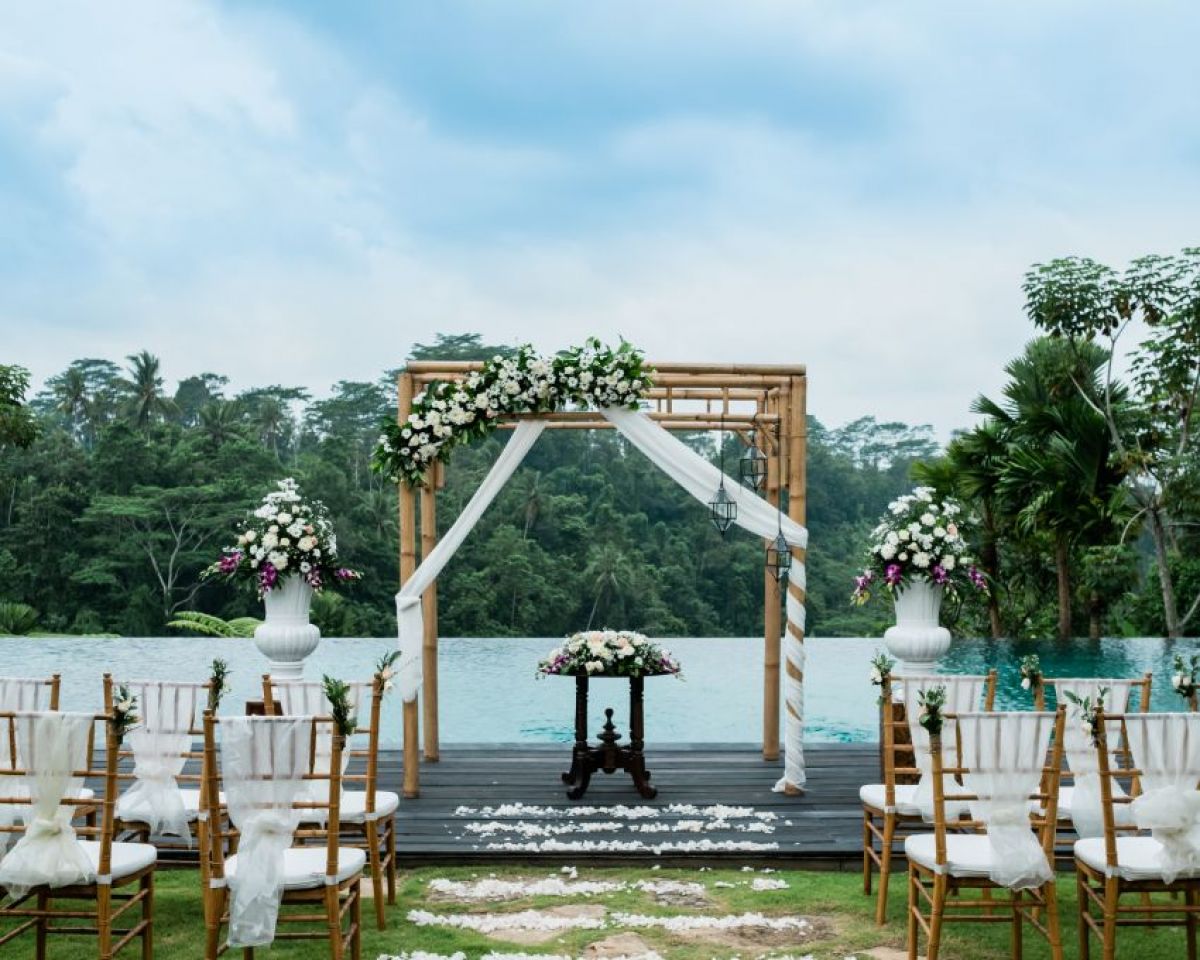 Tip #4: Go local 
Bringing in photographers or your favourite make-up artist from your hometown is sure to be expensive as you'll need to foot the bill for their travel and accommodation. Why not use professionals who are located at your destination instead? The same goes for floral arrangements - if your wedding is on a Malaysian island, a local variety of orchids will cost far less than flying in hundreds of imported tulips from the Netherlands.
Click to read: SUMMER SALE AT CENTRAL WEDDINGS HONG KONG WITH DISCOUNTS UP TO 60%!
Tip #5: Get "officially" married before you reach your destination 
Every country has different regulations such as the time the couple needs to be in the country before you're legally allowed to get married. To save yourself the headache, time, and money on legal fees, accommodation, and transportation to and from government offices, head down to the nearest city hall and file your paperwork to get legally married locally first.
Then, focus your destination wedding on just the wedding reception, or better yet - a local traditional ceremony to bless your union.
Looking for a wedding officiant for your wedding? Click here.
Tip #6: Ask the hotel to provide you with a wedding planner 
Many reputable hotels and resorts out there, like SAii Lagoon Maldives, usually have dedicated wedding planners on staff, and not just a kitchen manager who would oversee the catering for your dinner. These coordinators usually come part of your package and can help you with other arrangements such as decorations, accommodation, logistics and more.
Ask the resort about the wedding planner's previous experience with similar weddings like the one you have in mind, and the kind of services they can provide. That way, you can save on hiring a separate wedding planner.
Click to read: 10% OFF BRIDAL PACKAGES AT PEONY RICE, SHANGHAI, CHINA
Tip #7: Pick the right, all-inclusive wedding package 
The idea of choosing an all-inclusive wedding package may seem a bit too cookie-cutter for you, which defeats the purpose of having a personalised, destination wedding. But trust us - we've done our fair share of helping hopeful couples plan theirs, after all - picking a wedding package can help you save a whole lot of money. This is because the resort normally has existing relationships with local suppliers and has already built significant discounts into their packages to take advantage of this.
You can get around the cookie-cutter feel but asking the resort to customise one of the ready-made packages by adding on a few extras (like a traditional blessing ceremony, or changing up the canape menu) to give it a flavour that's uniquely yours. So, be sure to keep an eye out for exclusive deals, like this special one we've procured for you with Sadara Boutique Beach Resort in Bali.
Click to read: DANIEL JANTO PHOTOGRAPHY: UP TO 37% OFF FOR A PRE-WEDDING PHOTO SESSION - US$1,200 ONLY!
Tip #8: Honeymoon where you wed 
You're already about to plonk a wad of cash to secure your flights to a (possibly) faraway destination for your ceremony, so take advantage of it instead of making an additional drive or flight for your honeymoon.
Some resorts will give you an incentive to stay extra nights after the wedding if you use their venue for your ceremony. If they don't, then that's an extra reason for you to consider booking your wedding via Hitchbird - thanks to our existing relationships with top-notch resorts around Asia, all of our couples are entitled to a free honeymoon!
Tip #9: Take advantage of group discounts 
When you take your guests into consideration, the size of your wedding party might just entitle you to group discounts for flights, so remember to check with your airline. Resorts and hotels are also likely to go out of their way to offer special arrangements for couples travelling with groups, so ask them upfront for complimentary group amenities like rehearsal dinners, jungle trekking, and island hopping.
If you have many nights booked at the hotel, you can also use this to give you an upper hand in negotiating for accommodation discounts even if your guest list is on the smaller side. Not sure how to get things started? Reach out to us and we'll help you get the best bang for your buck.
For more information about wedding deals & offers, click here.