Marrakesh Hua Hin Resort & Spa
A Moroccan Romance on The Beach
Weddings are a once in a lifetime event. Your wedding destination should be exactly the same. A destination like no other, one that somehow has managed to infuse all the charm of a contemporary Moroccan flair in a location that can only be described as an oasis of inspiration, romance and tranquillity. It is almost impossible to believe that such a beautiful location could exist.
But it does. The Marrakesh Hua Hin.
An absolutely stunning resort nestled on the pristine, sandy beaches of Hua Hin lies the Marrakesh Hua Hin, one of Hua Hin's best kept secrets and the answer to every romantic wedding fantasy you have ever dreamed of and more. Think romantic wedding settings are reserved just for movies? Think again.  
About Marrakesh Hua Hin Resort & Spa
The Marrakesh Hua Hin has always had a way of combining extraordinary elements, exotic charms and exclusive characteristics together which make in destination that is one of a kind. The alluring architectural style of the Marrakesh in which every detail has been polished to perfection is the first thing that is going to catch your eye the minute you set foot on its premises.
The minute your eyes meet the deep, rich colors, the intricate lines and sultry textures of this exotic location, you will know instantly that you couldn't have chosen a better place to say your vows. The Marrakesh Hua Hin will be comfortably house you and your entire wedding entourage in its luxuriously spacious 76 suite offerings. Each suite covers a span of 55 to 105 square metres, and come with either a spacious Jacuzzi or private plunge pool of your choice. Infusing the best of both Moroccan design and modern architecture, you won't be able to find a more romantic setting in the whole of Hua Hin.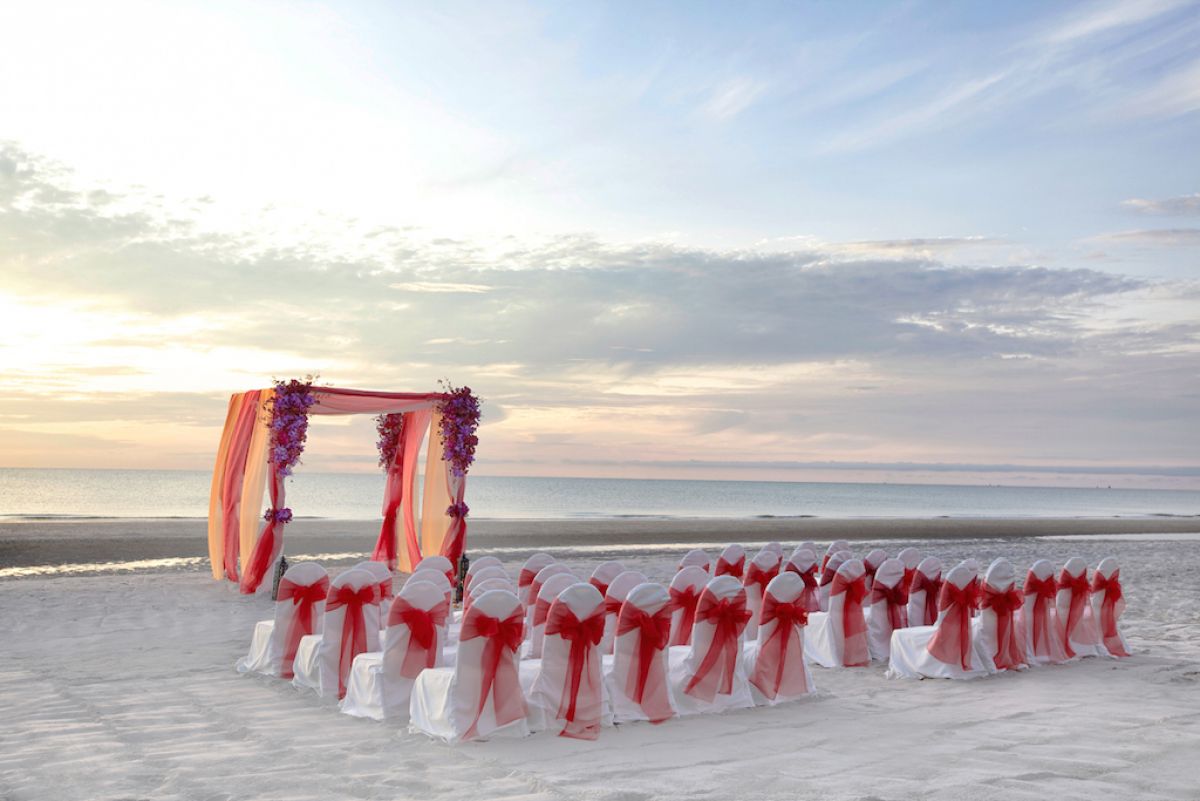 Feeling stressed from all that work that went into planning your wedding? Then Noora's Spa is the perfect place to recharge and rejuvenate before the big day. Indulge in a 60-minute Signature Radiant Massage exclusively for the bridal couples and feel like a completely new person when you emerge at the end of your session.
At the Marrakesh Hua Hin, all you need is love because the staff will take care of everything else. And they do mean everything. From a custom designed 3-tier cake, a wedding photographer provided during the ceremony, themed flower decorations, to the free corkage charge for up to 10 bottles of alcohol, the Marrakesh knows what every bridal couple needs and they go out of their way to make sure everything is dealt with in absolute perfection.
The wedding of your dreams begins the minute you set foot on the Marrakesh Hua Hin. Take your pick of the perfect wedding backdrop from its view of the endless ocean stretching out for miles in front of you, the soft sandy beaches that engulf your bare feet as you walk towards your better half, or even the timeless Moroccan architecture that will add a burst of colorful elements into every picture taken.