Our Top New Picks for Wedding Destinations Throughout South East Asia
Destination Wedding packages in South East Asia
Asia is known as one of the most gorgeous places to have a wedding, with its pristine beaches and exotic tropical greenery, making it one of the best locations for a destination wedding. For those looking for white sandy beaches there is Thailand and Indonesia, and for those who prefer something a little more exotic like the tropics of Cambodia and Vietnam, there is something from everyone. At Hitchbird, we pride ourselves on being the one-stop destination for all your wedding needs so read on to find out some of our best picks for wedding locations throughout South East Asia.
 
Top Picks Destination Wedding packages in South East Asia
 
At Hitchbird, we find the best wedding venues and help you pair them with the best wedding packages available. Each location on this list comes from a renowned city in Asia, featuring some luxurious gems for the picking. These hotels are suitable for sizable weddings, with that elegant setting. We've put them all under one list to make searching the ever easier for you.


Photo: SAII LAGOON MALDIVES, CURIO COLLECTION BY HILTON
Lying just 15 mins from Malé International Airport by speedboat, SAii Lagoon Maldives is an inspiring destination resort with 198 spacious deluxe guestrooms, beach villas and overwater villas, all designed by renowned architect Bill Bensley to bring out the wonder and enchantment of its natural location.
Ideally suited to couples looking for an inspiring wedding venue, the resort's generous interiors and inviting alfresco spaces offer a true sense of escape enhanced by innovative culinary concepts, unique design features and personalized experiences.
The genuine hospitality of, SAii Lander helps create an unforgettably unique wedding experience.
You can check out wedding photographer in Maldives here.
Photo: X2 KOH SAMUI RESORT – ALL SPA INCLUSIVE

Aim to embrace the surrounding environment to tailor your wedding unlike no other. X2 wedding gives you a whole new wedding experience not solely at the ceremony, but the surrounding environments as well.
So enjoy your wedding event in style and for the few days, you and your guest celebrate at X2 Samui, experience the fun, indulge in the luxuries and relax in the privacy of what can only be described as the X2 experience. We don't live by the rule of "can's and cannot's" and we don't believe in mass production, we believe in a "do whatever it takes" attitude to bring your dream wedding event to life.
You can check out wedding makeup artist in Koh Samui, Thailand here.
Photo: SHERATON SAMUI RESORT
Celebrate the most romantic day of your life in the paradise setting of Sheraton Samui Resort. Exchange vows on the soft sands of Chaweng Noi beach, surrounded by swaying palm trees and stunning views overlooking the Gulf of Siam.
Allow their dedicated wedding planners to go above and beyond to ensure your big day runs smoothly. Create a seamless experience for friends and family staying in it's comfortable and spacious guest rooms within convenient reach of the island's airport and many popular attractions.
Check out wedding hair stylist in Koh Samui, Thailand here.
Photo: ANANTARA ULUWATU BALI RESORT
Mark your nuptials with a journey delving into unimaginable magnificence. Enter into married life from surreal steep heights, with nothing but endless blue horizon and splendid surf ahead. Revel in the sheer paradise of a hypnotic island ambience and intuitive architectural feats creating climaxes over rugged natural beauty.
Live out the dream of an unforgettable honeymoon, with tailored packages with Anantara's most intimate signature experiences.
You can check out wedding photographer in Bali, Indonesia here.
Photo: SONG SAA PRIVATE ISLAND
Song Saa Private Island lies secluded in this magnificent seascape, just 35 minutes by boat from the port of Sihanoukville.
Song Saa Private Island is a heaven of sustainable luxury nestled in the undiscovered beauty of Cambodia's Koh Rong Archipelago. With unique cuisine and stunning sunset views of the Gulf of Thailand, and an array of spa and wellness treatments, Song Saa offers the ultimate indulgence for mind, body and soul. Best of all, their commitment to environmental and community programs means you'll be treading lightly on this special piece of paradise.
Harmony, sustainability and barefoot luxury are the core principles that underpin the design of Song Saa which includes energy efficient thatched roofing, sandstone reclaimed from the Villa foundation, recycled timber from disused fishing boats, furniture made from driftwood collected from local beaches and coves, and floors made from timber salvaged from old factories, warehouses and demolition yards around Cambodia and Thailand. This is complemented by bespoke hand-crafted furniture made by local artisans and artwork sourced from provincial markets or local artists.
You can also check out wedding packages in all across Cambodia here.
Photo: ALEENTA HUA HIN RESORT & SPA
Aleenta Huahin is the perfect location for small and intimate wedding celebrations or special occasions, especially if you are looking for a beach wedding in Thailand. Aleenta's personal wedding planner is here to help you plan the perfect day; from arranging the ceremony, flower decoration, finding the right music to entertain your guests, or even your wedding dress in Thailand, to photographers and makeup artists.
An Aleenta wedding is tailor-made to suit your dreams. Make your wedding day even more exquisite by selecting from one of Aleenta's tailor-made wedding packages. Whether it is for just the two of you, a small gathering of just the closest friends and family, or a party of a lifetime, Aleenta' wedding consultant is there to help you make the most of your wedding day, the day that lifelong promises are made.
You can check out more wedding venues in Hua Hin, Thailand here.
---
Wedding at LA VELA KHAO LAK
Ceremony from THB 59,999 | Dinner from THB 990 per guest | Beverage from THB 350 per guest | Minimum 30 guest(s).
Photo: LA VELA KHAO LAK
Inspired by verdant tropical nature, a shimmering ocean, and rich cultural heritage of the ancient Takola seaport, La Vela is anchored on Khao Lak's most serene stretch of beach, appropriately named Bang Niang. The truth is Khao Lak has long been one of the loveliest barefoot beach escapes in the South of Thailand.
This modern resort with its rustic charm welcomes visitors from around the world with a glowing hospitality, bringing back the beautiful traditions of the local people during the maritime trade era. Discover a haven of exquisite beachfront comfort, immerse yourself in it's stunningly huge free-form swimming pool, dine with your loved one by candlelight at the beach club, and awaken your spirit at their spa – what's a better way to spend a vacation in this beautiful destination?
You can click here to check out wedding venues in Khao Lak, Thailand.
Photo: FOUR SEASONS CHIANG MAI
A Four Seasons on-site expert will work with you or your wedding consultant to reserve your dates, plan the schedule of events, coordinate all food and beverage details, from menu design to linens, and assist with other aspects of your wedding experience at the Hotel.
Four Seasons Resort Chiang Mai eases the worry of wedding planning with specially conceived wedding packages. Alternatively, if you wish to custom-design your occasion, use these details to spark your imagination. Four Seasons Resort Chiang Mai event coordinators are ready to offer expert assistance – allowing you to look forward to your special day with pleasure and confidence. Whether you dream of a grand gala or an intimate gathering, Four Seasons Resort Chiang Mai invites you to explore all the possibilities.
At Four Seasons Resort Chiang Mai, a tropical venue and signature Four Seasons service combine to create the perfect wedding.
You can check out other wedding venues in Chiang Mai, Thailand.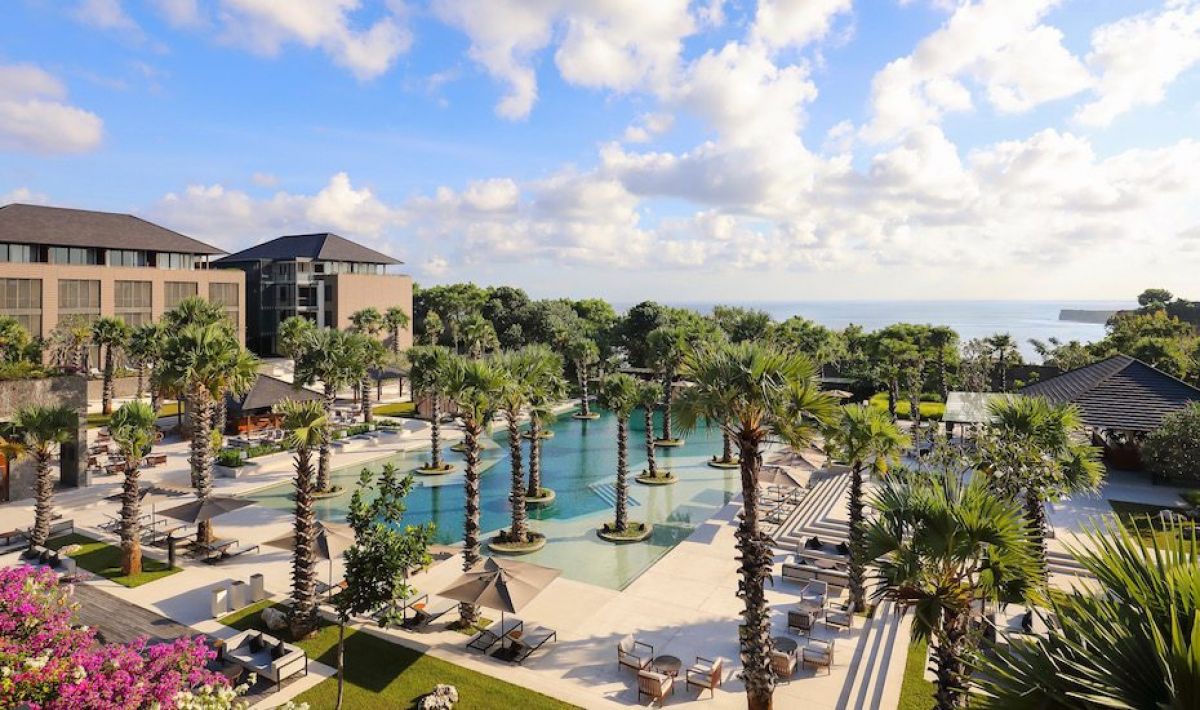 Photo: RADISSON BLU BALI ULUWATU
Radisson Blu Bali Uluwatu sits on one of Bali's awe-inspiring cliffs. A world-class surf beach waits below, and the Indian Ocean stretches out to the horizon. Just 20km away lies Bali's Ngurah Rai International Airport. Closer, only 6km from the resort sits Pura Luhur Uluwatu – the magnificent, ancient Hindu temple that gives the region its name. In this mesmerizingly beautiful context, our distinguished architecture makes a bold, refreshing statement.
The resort offers 111 Deluxe Rooms at 58 sq. m, featuring private balconies on upper floors and private sundecks on lower floors. On the top floor, 11 Junior Suites spanning 92 sq. m. plus three 148 sq. m. Ocean View Suites each enjoy spacious private rooftop terraces. All accommodation offers views of the sea, the gardens or both in full panorama. Decorated in culturally-inspired, contemporary detailing, the designer resort is stylish and authentic. Signature bathroom amenities, individually controlled air conditioning, free WiFi, 400 thread-count bed linen, separate shower and bathtub, Internet Protocol Television (IPTV), espresso machines and tea making facilities, mini bar, and a safety deposit box are essentials.
With two restaurants and three bars, the resort adds culinary excitement to Bali's gastronomic scene. Be soothed or invigorated in SPA Esc – a retreat in which organic ingredients and luxurious treatments revitalize mind, body and soul. Put the fully-equipped gym through its paces or join one of our Pilates or Yoga classes.
Click here to see deals and offers.
Interested in any of the above? 
Discuss options with your local wedding planner. Other than a local wedding planner, you may reach out to Hitchbird's International Wedding Concierge Team