Top Wedding Venues less than $5,000
Weddings Under $5,000! Thinking about a Destination Wedding?
If you're planning a wedding and looking for ways to keep down costs, here are some of our recommended venues below $5,000. Even if your budget is bigger than $5,000, you can benefit from some of the top pick venues here. 
Wedding Venues under $5,000
Start a new chapter of your life with your lover at Anantara Veli Resort & Spa, where you will be blown away by the magnificent view of the Indian Ocean. Cherish every moment of your wedding day in the romantic atmosphere of Flamingo Dai Lai Resort, the Top 10 most beautiful Resorts in the world (Vietnam Economic Times)

Weddings Starts from $424
Max Capacity: Ceremony 2,000 guests, Dinner 2,000 guests
Looking fo more wedding venues for Hanoi? Click here.
Photo: FLAMINGO DAI LAI RESORT

 
Whether it's a western wedding or a Thai wedding, the award-winning Santiburi Koh Samui will help you in arranging your wedding, so you don't have to sweat the details. You and your significant other can become newlyweds in the 18-hole championship golf course against a backdrop of dazzling mountain and ocean views; it's one of the most challenging courses in Asia, and no doubt one of the most scenic. Getting married here will be no doubt, a memorable experience.
Weddings Starts from $2,645 for 20 pax
Max Capacity: Ceremony 60 guests
Click here for more wedding venues in Koh Samui.
Photo: SANTIBURI KOH SAMUI
Get married while taking in the beautiful view of the Laccadives Sea at Avani Kalutara Hotel, where you and your partner can enjoy the luxury of Sri Lankan hospitality. Design and conduct the wedding of your dreams with the help of the staff at this Colombo resort, so you don't have to burden yourself with all the stress.
Weddings Starts from $1,500 for 10 pax
Max Capacity: Write to enquire.
Click here to see all wedding venues in Colombo.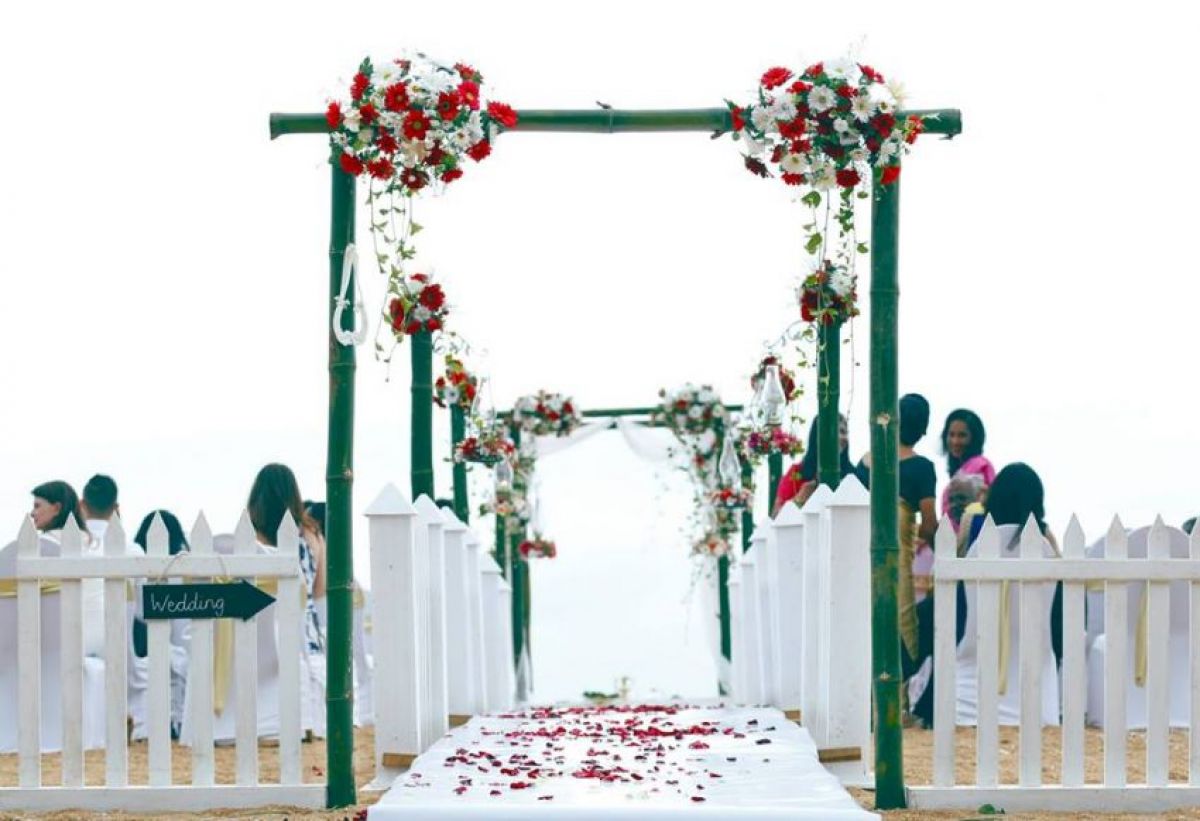 Photo: AVANI KALUTARA HOTEL
Surrounded by the blue ocean, feeling the feet in your sand, and enjoying the warmth of the sun. Nothing can be better than getting married on an island! Dhigufaru Island Resort, Maldives is the place to go for the ultimate island wedding location you and your partner can wish for. It is one of the best islands if you want an intimate wedding with close family members and friends.
Weddings Starts from $2,850 for 2 pax
Max Capacity: Ceremony 40 guests, Dinner 40 guests
Click here to view wedding venues for Maldives.
Photo: DHIGUFARU ISLAND RESORT
Weddings are about everyone gathering to be the witness of a couple make vows of lifetime commitment, and to celebrate it. Weddings are also about old friends and family getting together, sharing stories, catching up, hugging, laughing, talking… and making new friends, and creating new memories. The two of you are the reason why everyone is gathered together, but blessedly when a wedding goes right, it is about so much more than the two of you.
Weddings Starts from $1,982 for 20 pax
Max Capacity: Write to enquire.
Click here for more wedding venues in Bali.
Photo: THE SAMAYA UBUD,BALI
A dramatic hideaway nestled in the heart of rainforest Payangan – Ubud, Nandini Jungle Resort and Spa is a captivating destination resort that blends smoothly with its natural surroundings. Situated on the mystical Ayung River, each villa enjoys the embrace of the lush rainforest and offers stunning views from private balcony of the breathtaking Ayung gorge. Reconnect with nature, rekindle your spirit and reignite your soul in this serene natural haven.
Weddings Starts from $3,438 for 20 pax
Max Capacity: Write to enquire.
Click here for more wedding venues in Bali.;
Photo: NANDINI JUNGLE RESORT & SPA
Check out more deals and offers.
Do you already know you are ready to start planning? You can schedule a phone consultation with our Bespoke Wedding Planner to learn more.