Hotel Vila Lumbung
starsFree Flights For Your Wedding. Free Honeymoon For Wedding Couples. Complimentary Bespoke Luxury Wedding Planning.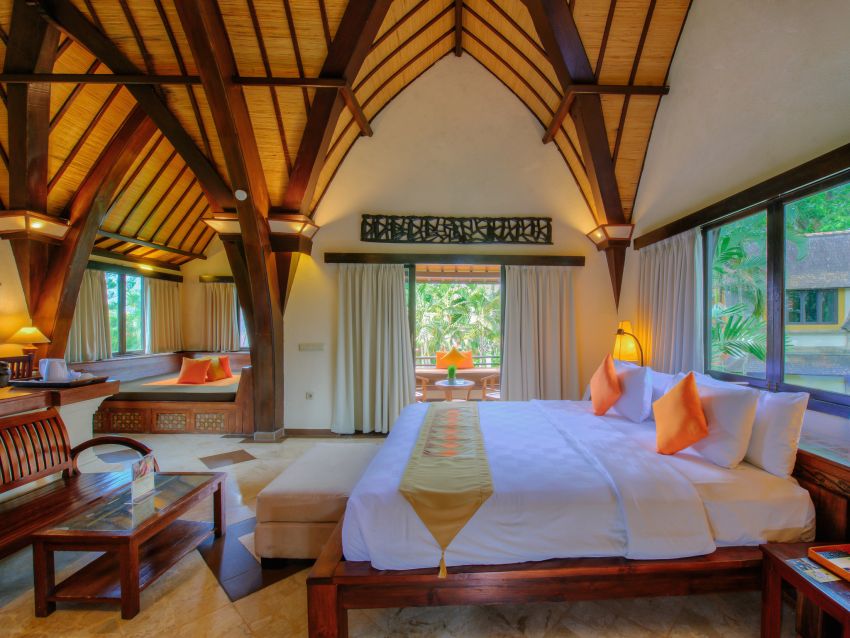 USD

1,399

for 10 pax
Additional price per pax
Ceremony:
From
USD
1,054
per pax
Food:
From
USD
28
per pax
Beverage:
From
USD
28
per pax
---
(Minimum 10 pax)
Package includes:
** HITCHBIRD EXCLUSIVE OFFER - Original Price @ USD$ 2,400 **
Usage of Garden Venue - 4 hrs
Simple elegant wedding decoration with fresh flower
Wedding celebrant with English speaking
1-Night Stay at Deluxe Lumbung
10 Glass of Non- Alcoholic Drinks for Wedding Toast
Wedding assistance from preparation until the wedding day
Limited Quota Available
overview
| | |
| --- | --- |
| Capacity: | Ceremony (80), Dinner (80) |
| Hotel Star: | |
| Type | Garden/Park, Restaurant/Bar, Villa, Boutique Resort, Resort, Boutique Hotel |
| Setting | Onsite wedding consultant, Onsite catering, Onsite parking, Outdoor area, Valet Parking, Onsite overnight accommodations, Outside vendor allowed, Lighting/Sound |
| Special features: | Green Tropical landscape, Balinese Authentic, Beautifully landscaped , Lush Tropical Backdrop |
| Language: | English, Indonesian |
About
Beautifully landscaped acres of a tropical natural gardens that will bring your wedding dreams and fantasies to life.
L
ocated in Seminyak area and just 800 meters away from Petitenget beach. It's a Balinese Boutique Resort designed with the unique shape wooden roof from the typical Balinese "Lumbung" where guest can experience Hotel Vila Lumbung as a Little Paradise in Seminyak. Find everything you need from the best culinary, beach club, coffee, and shops by walking distance.
Hotel Vila Lumbung features 2 levels Swimming Pool with waterfall, cave, bridges, whirl pool and gazebo spa over looking to the lush tropical garden. A perfect combination between modern chic and Balinese style, furnished with fine designed of brown furniture which create a clam ambiance. In addition, an open air restaurant with an adjacent pool bar and garden terraces, the warmest friendly Balinese spa, children's playground, tour desk, fitness center, meeting room and complimentary wi-fi are available throughout the hotel. Blessed with With 36 Superior Rooms and 34 Deluxe Lumbung this is the remarkable place for people who seek a fresh and tropical atmosphere. Balinese hospitality awaits you at this Bali resort hotel.
Total Rooms: 70
Distances:
Ngurah Rai International Airport - 7.5KM
City Centre - 5.8KM
WEDDING INSPIRATION
Here's a list of our past events.
Check out the related article at Hotel Vila Lumbung
USER REVIEWS
Donna & Patrick
Reviewed January 29, 2019
Just returned after 7 fantastic days spent at Vila Lumbung attending a garden wedding. The overall success of the day was attributable to the effort by Global Weddings and the FBS Team of VLH, consisting of Edi, Rutina, Karmi, Arta, Angga & Mitha who provided an excellent service at the wedding recetion. The overall service during our overall stay was top notch in all areas including the cleanliness of the grounds and water quality in the pool. Restaurant and food was not to shabby either, overall an enjoyable family stay... View moreView less
Jess & Tim
Reviewed January 29, 2019
We had a fabulous stay and these are the reasons why:-
The room was enormous with separate ensuite and an upstairs balcony view
The staff knew us by our first names from day 1
The service from the staff was friendly and never too much trouble
The food was excellent and the drinks well prced
They couldn't have done more for the wedding which was beautifully set up
Would stay there again in a heartbeat... View moreView less
Reviewed February 08, 2019
Just returned after 7 fantastic days spent at Vila Lumbung attending a garden wedding. The overall success of the day was attributable to the effort by Global Weddings and the FBS Team of VLH, consisting of Edi, Rutina, Karmi, Arta, Angga & Mitha who provided an excellent service at the wedding recption. The overall service during our overall stay was top notch in all areas including the cleanliness of the grounds and water quality in the pool. Restaurant and food was not to shabby either, overall an enjoyable family stay... View moreView less
send enquiries now,
best rate guaranteed