Nandini Jungle Resort & Spa, Bali
starsFree Flights For Your Wedding. Free Honeymoon For Wedding Couples. Complimentary Bespoke Luxury Wedding Planning.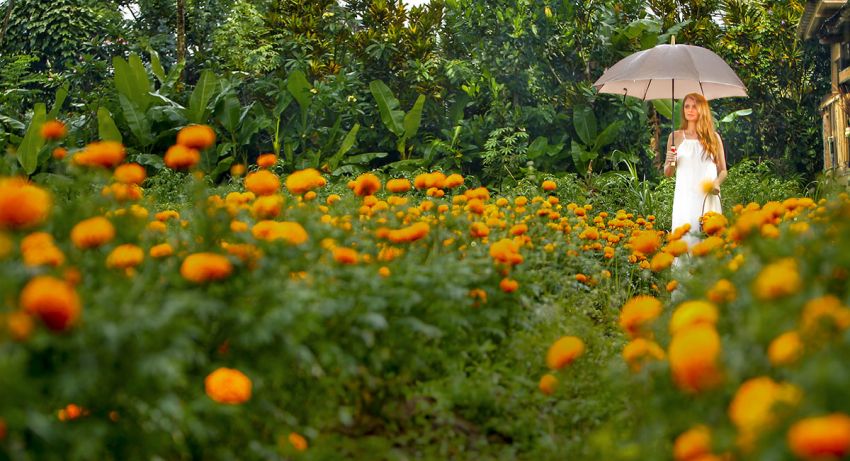 USD

2,509

for 20 pax
Package includes:
** HITCHBIRD EXCLUSIVE OFFER - Original Price @ USD$ 3,509 **
Wedding Reception & Elegant Wedding Decoration for 20 pax
Bridal Bouquet of Fresh Roses
Resort Sound System with CD Player
Welcome Drinks and Cold Towels
A Bottle of Champagne to toast
Dinner - Set Menu for 20 persons
2-Nights Stay for Bride and Groom
90 min Post-Wedding Massage for The Couple
Limited Quota Available
overview
| | |
| --- | --- |
| Capacity: | Ceremony (25), Dinner (50) |
| Hotel Star: | |
| Type | Resort, Villa, Restaurant/Bar, Nature Resort |
| Setting | Indoor area, Onsite parking, Onsite overnight accommodations, Onsite catering, Liquor license, Outdoor area, Onsite wedding consultant |
| Special features: | Enchanting forest, Most Outstanding Luxury Hideaway 2018 |
| Language: | English |
About
Whatever your preference, whoever you're marrying, Nandini has the perfect wedding ceremony for you!
A
dramatic hideaway nestled in the heart of rainforest Payangan – Ubud, Nandini Jungle Resort and Spa is a captivating destination resort that blends smoothly with its natural surroundings. Situated on the mystical Ayung River, each villa enjoys the embrace of the lush rainforest and offers stunning views from private balcony of the breathtaking Ayung gorge. Reconnect with nature, rekindle your spirit and reignite your soul in this serene natural haven.
Nandini offers a spectacular setting for intimate weddings, with an enchanting backdrop of forest, lush landscape and water features. Do allow us to take care of your special day and it will be all the more unforgettable. Celebrate your love with an intimate gathering or hold a splendid event to mark the momentous occasion. Whether you wish to make your union with a Thai inspired ceremony, Western or our Nandini Signature Enchanting wedding, we will create a bespoke marriage ceremony just for you and your guests, ensuring your day is seamless.
Total Rooms: 18 Villas
Distances:
Ngurah Rai International Airport - 37.4KM
WEDDING INSPIRATION
Here's a list of our past events.
FREQUENTLY ASKED QUESTIONS
Can we arrange for food tasting before the wedding?
Yes
What happens if it rains on the wedding day?
Back up venue available - indoor restaurant
What's the latest time we can use the event/dinner space?
11 pm
Do I need to bring my own make up artist and hairdresser?
Yes
Do you have smoking and non-smoking rooms?
Yes, both available
Check out the related article at Nandini Jungle Resort & Spa, Bali
USER REVIEWS
Christina
Reviewed April 28, 2018
I had a wedding on 27 April 2018 in Nandini and stay for 3 nights. The resort is absolutely gorgeous, the staff are very friendly, food is fantastic because of talented chef. Iwan (the manager) is super helpful. I amaze with what I got and their services. They make me and my family feel special. My edding is more wonderful than I expected. Thanks to Nandini Jungle Resort. I definitely will back to this place.... View moreView less
Vina A
Reviewed October 07, 2014
It has been 5 times I stay with Nandini, and all of them was magical. The scenery of the forest and the river amaze me. The aura of the morning sunrise makes you feel that you're in magical land. I love everything about this resort, the service, the people, the scenery, the swimming pool which one o my favorite, and many more. At first, me and my husband was staying for only one night and then we realized we made a mistake, so I came to visit Nandini again the following months and then the following months, and we finally decided to have our wedding in Nandini. And it turns out to be more than what we expected. It was magical, we had so much fun with friends and family. It was unforgettable memories. I would like to compliment for all the staff especially Pak Iwan, Heri, Mbak Ayu who made me feel like I'm home. They really took care of me and my family like their own.... View moreView less
Jennifer Lingvall
Reviewed November 24, 2013
We like to adventure, experience culture and explore the world; so it made perfect sense for the two of us to have a Balinese wedding ceremony. We were so happy to let Iwan take care of all of the details of the ceremony ("anything is possible") and be able to focus on our commitment to each other. ur wedding at Nandini was incredible. Let me say that again...INCREDIBLE. We never could have imagined a more amazing location to share that moment. It was truly like a fairy tale. It felt as though every single flower and candle down our ceremonial path had been placed with great intention. We truly felt taken care of and like the staff welcomed us as family. Our favorite moments were walking down the candlelit + petal-covered steps hand in hand with all of our "friends" dressed in white. We were led down the countless stairs (literally hundreds) by wonderful local musicians and greeted at the bottom of the river by smiling faces everywhere. Setting off our wishes for our life together into the river was a wonderful unexpected surprise (and a ceremony in itself)! The river will forever hold a very special place in our hearts. We will be back to Nandini!... View moreView less
send enquiries now,
best rate guaranteed