The Samaya Ubud, Bali
Banjar Baung, Desa Sayan, Ubud, Bali, Indonesia
starsFree Flights For Your Wedding. Free Honeymoon For Wedding Couples. Complimentary Bespoke Luxury Wedding Planning.
USD

3,675

for 20 guests
Package includes:
Usage of Scene Lounge or Swept Away venue for one (1) hour
Usage of Scene Lounge venue for wedding reception 4 hours
Standard decoration on wedding
Commemorative certificate
Two (2) glasses of sparkling wine for Bride's & Groom's wedding toast
Wedding toast for up to 20 people (non-alcoholic)
Three (3) courses dinner for up to 20 people
One (1) night stay at one-bedroom villa
100 candles dinner for wedding couple
120 minutes of spa treatment for the wedding couple
Additional price per guest:
Food:
From
USD
44
per guest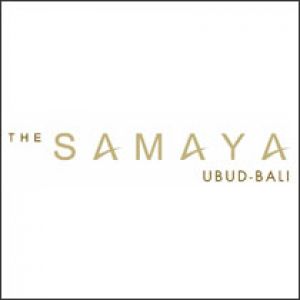 Lieke Ramopolii
PR & E-Commerce Manager
About
A Lifetime Story For You & Yours. Sweeping views of picturesque rice terraces and tropical rain forest scene
W
eddings are about everyone gathering to be the witness of a couple make vows of lifetime commitment, and to celebrate it. Weddings are also about old friends and family getting together, sharing stories, catching up, hugging, laughing, talking… and making new friends, and creating new memories. The two of you are the reason why everyone is gathered together, but blessedly when a wedding goes right, it is about so much more than the two of you.
A 'once in a lifetime moment' where two people are joined following an engagement to celebrate their ultimate love story. Inspired by the idea of a fairy tale wedding? Allow us at Samaya Ubud to prepare, organize this very special day in Paradise, and say "I Do" in our truly Balinese magnificent natural setting, may we be the host of your precious moment.
Total Rooms: 19 Villas
Distances:
Ngurah Rai International Airport - 27.3Km
City Centre - 10KM
Total Rooms: 19 Villas
Distances:
Ngurah Rai International Airport - 27.3KM
City Centre - 10KM
USER REVIEWS
Boat338
Reviewed March 05, 2019
It is a beautiful resort. Quiet and relaxing with great staffs that attention to details. I had my wedding here and I couldn't be more happy with all the arrangements. Everything was perfect. All the staffs are so friendly and catered to all our needs.
Jenna Schulte
Reviewed January 29, 2019
My husband and I were married at the Samaya Bali Ubud in April 2018. I cannot say enough about how wonderful the experience was and how happy we were with our decision. I was blown away by the beauty of the facility, the quality of the spa services, the fine dining, and the service from the staff an wedding professionals. The manager personally visited us to make sure that our expectations were met. We did two days of spa treatments and they were the most quality spa experiences in the best/most relaxing environment. We had a lot of room service and had two multi-course dinners at the restaurant. I did not have a single dish that did not meet or surpass expectations. We are already planning on returning to the Samaya for a future anniversary trip. I cannot recommend this location enough for a honeymoon, special stay or for a wedding. The wedding planners were top notch and made the wedding beautiful, romantic and stress-free. I was blown away.... View moreView less
Helen Newton
Reviewed March 07, 2019
If you're looking for a romantic and intimate venue in Bali to get married, where you'll be looked after ever minute, treated like royalty and as if you're the ONLY guests in the place then look no further than The Samaya Ubud! It is second to none!