Furama Resort Danang
starsFree Flights For Your Wedding. Free Honeymoon For Wedding Couples. Complimentary Bespoke Luxury Wedding Planning.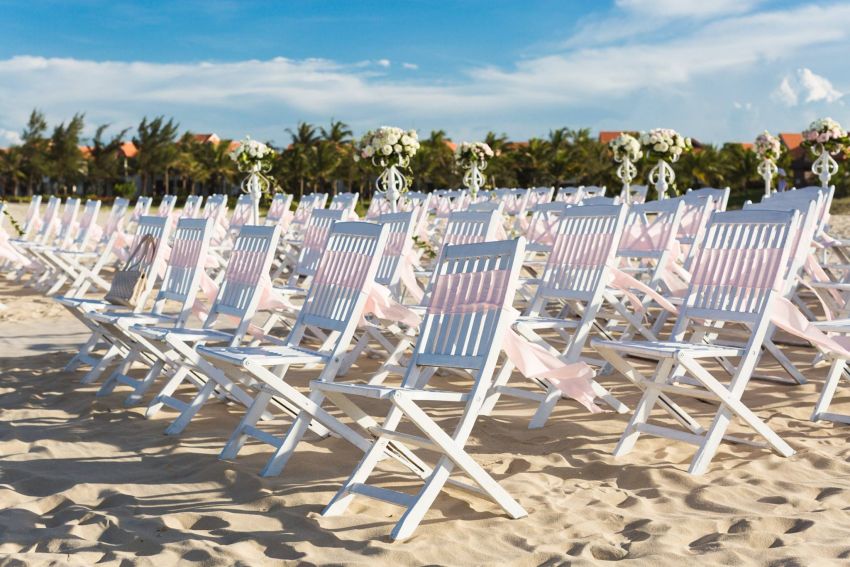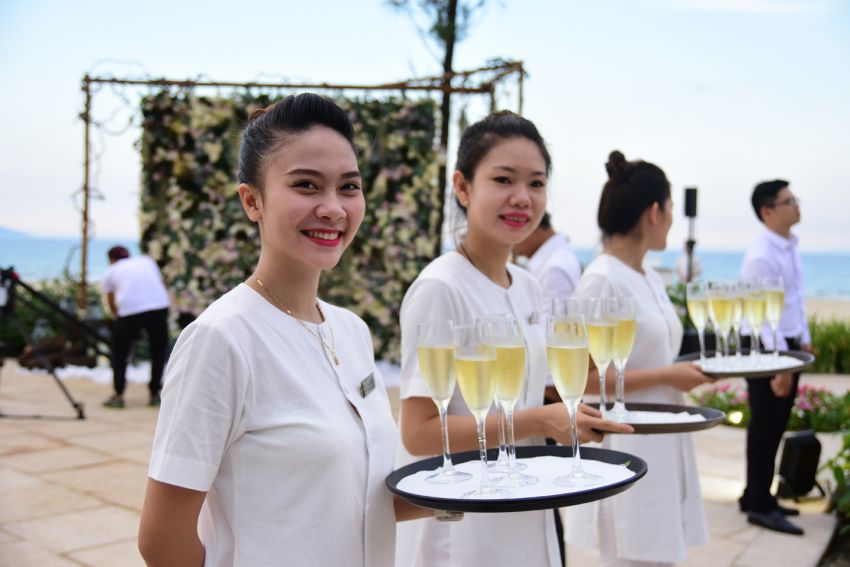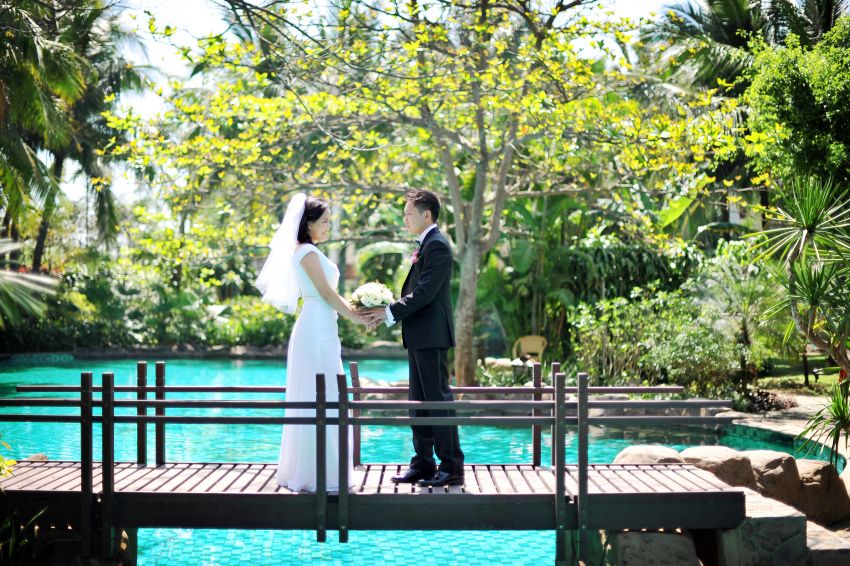 USD

2,469

for 50 pax
Package includes:
** HITCHBIRD EXCLUSIVE OFFER - Original Price @ USD$ 3,469 **
Wedding Celebrant
Bridal Hair Styling and Makeup
Wedding Decoration - Arch, Aisle, and more
Bridal Hand Bouquet & Groom's Boutonniere
Champagne Tower & 1 Bottle of Sparkling Wine for toasting
3- Tier Wedding Cake (1 Real Tier)
Live Music - String Instruments Trio (2 Guitarists + 1 Violinist)
Limited Quota Available
overview
| | |
| --- | --- |
| Capacity: | Ceremony (2500), Dinner (1500) |
| Hotel Star: | |
| Type | Hotel, Beach Resort, Beach Villa, Private Beach, Nature Resort, Convention Centre |
| Setting | Indoor area, Outdoor area, Onsite wedding consultant, Valet Parking, Onsite parking |
| Special features: | Long stretch white sandy beach, French colonial architecture interior design, Eco-friendly landscape with tropical garden, Private Helipad on the beach |
| Language: | English |
About
This world-class resort, Furama Danang, is reputable as The Culinary Beach Resort In Vietnam
I
f you've always dreamed of the perfect stunning wedding, the fairytale-inspired ambience at the Furama Resort Danang brings to life the fantasy wedding in a tropical taste of mind with this carefree, sunny Danang marriage setting up set on one of the six most luxurious beaches in the world, advanced technologies, sophisticated interiors, supreme facilities, truly delectable cuisine and superb selection of menus.
Set in a 27 ha area of oceanfront grounds and scenic landscape in the Ariyana Tourism Complex Danang, the Furama Resort Danang combined with the Ariyana Convention Centre Danang provides 02 large pillar-less ballrooms that can accommodate up to 2,500 people in style, 12,000 sqm ocean-front outdoor space with private helicopter on the beach, 4,390 sqm multi-function indoor space, 03 grand ballrooms, 20 break-out rooms, 200-slot parking for cars & coaches.
Famous for being the culinary beach resort in Vietnam, this luxurious Furama Resort Danang is also a gateway to three World Heritage Sites of Hoi An, My Son and Hue. The signature restaurants, open-air bars & lounges and poolside areas mark the resort a distinctly chic drinking and dining destination.
Let our teams of experts help you plan the wedding to perfection. All you need to do is remember about it filled with memorable moments.
Total Rooms: 196 Rooms, 70 Villas
Distances:
Da Nang International Airport - 5.3KM
City Centre - 8KM
FREQUENTLY ASKED QUESTIONS
Is there any free shuttle bus from the hotel to Hoi An and back to the hotel?
We do have 2 scheduled shuttle bus trips to Hoi An from the resort
Do you have a seating area in lagoon rooms?
Yes
Do the rooms have hair dryers?
Yes, all the rooms have hairdryers, bathrobes, slippers/flip flops, umbrellas, Vietnamese hat and full other bathroom amenities.
Is the resort within walking distance to facilities, shopping and restaurants outside of the resort?
There isn't really much shopping in Da Nang but the resort offers a daily shuttle into the city for shopping & 2 daily shuttles into Hoi An - where you'll find markets, fresh produce and stores.
USER REVIEWS
duyn701
Reviewed January 23, 2017
Furama Villas Da Nang Team is very professional, supportive and friendly. In particularly, Ms. Nguyen Minh Trang ( Villas Manager) who made everything so easy for us as we are oversea to prepare our Traditional wedding in Da Nang. The second staff is Ms. Trang (Business Center) who is so helpful andpatient helping me in translating some documents. Ms Tam ( Butler) for my villa S 47 is a fantastic butler who is always there for us if we ever need help during our stay.Tam supported us doing so many things on the wedding day and the day we left . We definitely would come back to stay at Furama again and would recommend our family and friends. I am sure you will get more than what you paid. Thanks again Furama's staff for making an extra special event of our memorable Traditional wedding. The villa itself is so spacious, a lot better than what we see from online/ photos, we love the pool and the master room en suite . Thanks again Trang, Trang and Tam and other Furama staffs :)... View moreView less
colshols15
Reviewed August 26, 2018
We recently spent a very enjoyable week at Furama. The staff simply could not have be more helpful, especially those at Cafe Indochine. They made us feel extremely welcome every morning and the evenings we dined there. The food was also fabulous. We were delighted in returning to our room to find oses and swans decorating the bed along with a cake and champagne after I had informed customer relations it was our wedding anniversary. (Paid only for the champagne.) More roses were on a table by the pool bar they had reserved for us for pre-dinner drinks. All the staff were extremely attentive and friendly and our room large and comfortable. Oh.. and the beach is fantastic as well.... View moreView less
sue902
Reviewed April 07, 2015
WOW. We stayed at the Furama Resort for 11 nights and its one of, if not the best, hotel we have ever stayed in, and we have stayed in many around the world. You can look at the photo's and think that it look good, but what they don't show you are the amazing staff that work at this fabulous resort.Don't expect to see a miserable, rude, or bad mannered member of staff here as you wont find one - anywhere. You mustn't expect to have to lift finger either as you are not allowed too, you will be spoiled from the moment you arrive. All the hospitality staff will do their upmost to make sure you are happy. We were lucky enough to be greeted by Paula, what a beauty, she became 'our girl' and looked after our every need, going beyond what I'm sure is in her job description. Go and see for yourself. THANK YOU Furama for making our 40th Wedding Anniversary so special x... View moreView less
send enquiries now,
best rate guaranteed